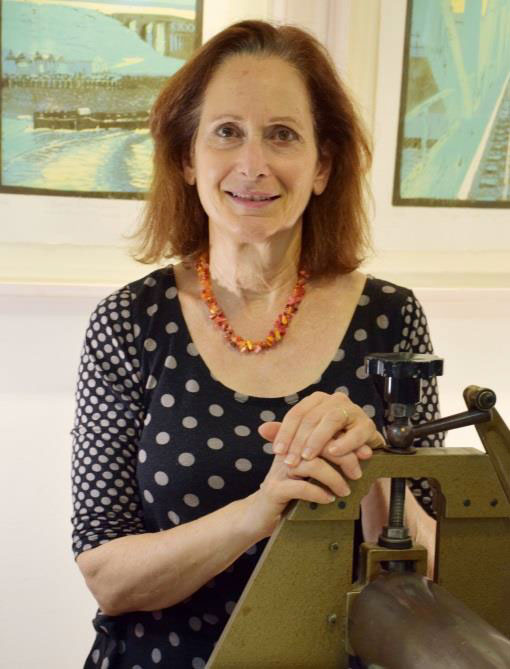 I was born and raised in Maagan Michael, Israel.
As part of my graphic design studies at Newcastle Polytechnic (currently Northumbria University), UK, I specialized in printmaking. Subsequently, I have further developed my printmaking skills at Purdue University, Indiana, USA, and at the Tel Aviv Museum Printmaking Workshop, Israel.
My home-based studio was established in 2009 in Mazkeret Batya, Israel, where I teach and create, using "non-toxic" printmaking techniques (linocut, etching, dry point, spit bite, and monotype). In my art work I use classic and modern printmaking techniques, combined with computerized image processing.
I exhibit in group and solo exhibitions in Israel and abroad.
2022 – First prize at the AIDA 3rd International Print Contest, Spain.
2022 – Second prize at the AIDA 3rd International Print Contest, Spain.
2020 – Thirs price at the AIDA 1st International Print Contest, Spain.
2017 – Winner of the 37th Mini Print International of Cadaques, Spain .


While most types of artworks are created in a single piece, printmaking is a type of art that enables the artist to produce a limited edition of identical original prints.
Printmaking is ancient in the artistic arena, yet it does not lose its beauty and uniqueness over time, but becomes even more valid in the age of contemporary art, combining technological developments and changes.
The work process consists of several stages:
Create the image on a flat matrix (wood, linoleum, metal, stone etc.).
Apply paint to the matrix
Transfer the image from the matrix to paper.
Each print is signed and numbered by the artist, guaranteeing its originality, quality and the total number of prints in the edition.
There is a large number of printmaking techniques, each has its own distinctive style. Common to all the techniques is the moment when the paper is lifted from the matrix and the print is revealed, a moment that always feels like a miracle.
The major techniques used and taught in my studio are:
Monotype – A technique that yields only one unique print from each plate. Monotype is made by drawing on smooth surface and pressing it onto a sheet of paper usually using a printing press. This is probably the most spontaneous printmaking technique.
Etching – An intaglio printmaking technique in which lines or areas are incised (etched) into a metal plate using acid or other chemicals. Ink is applied all over and the plate and wiped clean, leaving ink in the etched areas. A high-pressure printing press is then used to transfer in image from the plate to a sheet of paper.
Linocut – A relief printmaking technique, variant of woodcut, in which an image is curved into linoleum plate. The raised (uncarved) areas representing the parts to be printed, are inked with a roller, and impressed onto a paper.
Reduction linocut – This is my favorite technique, which allows to create multiple color prints using the same linoleum plate. The brighter color is usually printed first, areas that should remain in this color are curved out and the next color is printed on top of the previous one, and so on as many layers as needed.